Business Simulation
What is business simulation?
Imagine a situation where you have boarded a plane and are planning to make a transatlantic flight to participate in a conference overseas. You intend to devote the available time to your business issues and to prepare for the upcoming event. All of a sudden you hear your captain say "Ladies and gentlemen, I am pleased to welcome you on board our Transatlantic Airlines plane. I am making my first flight today and I am counting on your support and hope that everything would go well, despite the bad weather …".
Do you think you could concentrate on the tasks ahead, considering the circumstances? It would be more correct, perhaps, to ask if you would even consider staying on that plane?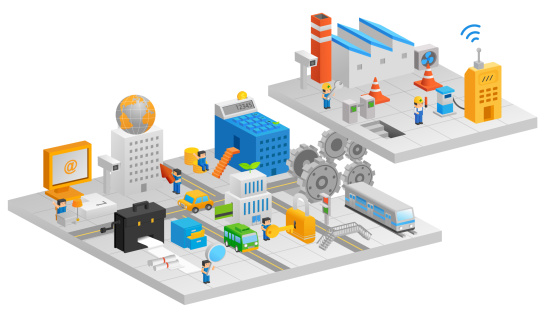 Something like that takes place in business when you plan to promote your staff to higher management positions, in troduce strategic company changes or make plans for staff participation in a project. Naturally, they would first have to attend some business simulation courses similar to flight simulator training classes. Only, in our case, that could simulation training in staff management, company administration, project development, etc.
Business simulation makes it possible not only to model situations that are as close as possible to the staff real-life day-to-day activities but also to ensure the participants' maximum involvement in the event and create an emotionally charged atmosphere. The conclusions that the participants will make are likely to stay with them for a long time.
So then, to practice development of business solutions, without any loss to the real business, you can play some business simulation games and acquire unique experience!
When do you need business simulation?
To make your people aware of your company's strategic and market niche
To enhance understanding of the middle management's role in achieving the desired financial targets
For an exciting and unusual start of a complex T&D program
To enhance team spirit and develop a new strategy in the event of a merger or takeover
If you need to "kick into action" participants at the start of a strategy session or some other teamwork exercise
To enhance cross-functional interactions between departments and describe their goals and respective contributions to the success of the company as a whole
If you need to organize an exciting, memorable and practical event during your internal conference, sales meeting or education program for your stuff, partners or clients
Why you might need partnership with BIRC
If your clients need business simulation but you have no provisions for them in your existing product line
If your business simulation solutions do not cover your clients' needs
If your clients would like "something new" or "some fresh ideas"
If your clients order a unique solution, created for their needs taking into account their business specifics and tasks
What we do
We have 12 already-developed business games
We can customize our games to suit Yours clients particular business sector and needs
We can make a new game to your order taking into account yours clients business tasks
| Name | Needs to suit |
| --- | --- |
| | Strategic thinking, finance, marketing, helicopter view in banking sector. |
| | Cross-functional communication, team work. |
| | Strategic thinking, finance, marketing, helicopter view in oil sector. |
| Well-run gas station | Management skills for gas station. |
| | Management, leadership. |
| | Mentoring, leadership, tutorship. |
| Lean Manufacturing | Systemic thinking, communications, desicios-making, introduction of change. |
| FMCG-battle | Negotiation, retail dealing. |